Celtic Crossing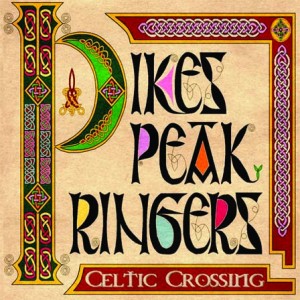 The Pikes Peak Ringers are proud to announce our fifth CD, Celtic Crossing!
Like the intricate artwork of a Celtic manuscript, Celtic Crossing intertwines ageless favorites of old with vibrant compositions of today.  Traditional tunes like MacAllistrum's March appear alongside radio Top 40 hits like Orinoco Flow (Sail Away).  A full spectrum of sacred music is represented by the modern praise of In Christ Alone and the timeless worship of Be Thou My Vision.  Contemporary composers imitate the traditional Celtic style in such songs as Celtic Farewell and Firedance (from the hit show Riverdance), and the incomparable Leroy Anderson adds an amusing twist to the classic The Rakes of Mallow.  Lord of the Dance may be better known as a Celtic dance phenomenon than the Shaker hymn it is based upon, and an Irish rock song like Ballavanich makes a striking contrast to the angelic melody of Gaelic Blessing… but it's all part of the rich tapestry of Celtic Crossing.
And true to the old "ceilidh" tradition, where Celtic musicians gather together informally for the simple joy of making music, the Pikes Peak Ringers are proud to join together with other talented musicians and singers (and even do a little singing ourselves!) to share our love of Celtic music with you.
Click here for a printable order form. You can also check out samples of all of the songs.